your partner in
CONTAMINATION CONTROL
Backed by science, made for Life Sciences. For over 30 years, our contamination control experts have helped create safe and controlled environments for bright minds and forward thinking companies, to make sure their products, research and innovations can truly flourish and change the world. Our mission is to create the best conditions for your products.
Let's make a difference together.
Click here to schedule an appointment for a free consultation.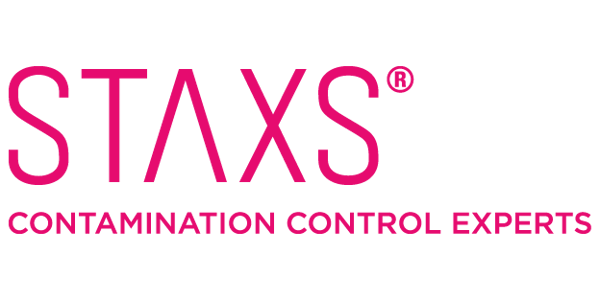 Discover the essence of innovation and passion in the new STAXS® corporate video!
Dive deep into the core of our company and experience the unique journey that has shaped us.
From inspiring team moments to groundbreaking projects, this is more than a corporate story – it's a celebration of collaboration and progress.

Ready to be inspired?
Click play, enjoy, and share the excitement!
The whole package
OUR PRODUCTS & SERVICES
STAXS® is a leading provider of cleanroom consumables and services for the Pharma and life sciences industries in Europe. As a contamination control expert, we've built an excellent reputation when it comes to quality and reliability of both our services and products: from hoods to overshoes, gloves and visitor coats, to products like disinfectants and cleanroom wipes. Our largest customers are companies with cleanrooms, such as the pharmaceutical industry, biotech and hospital pharmacies.
The quality of our products and our organization (ISO 9001 and ISO 13485), along with the knowledge and know-how of our specialized staff, make us the preferred contamination control partner in Belgium, the Netherlands and elsewhere. Our aim is to offer the most high-quality solutions to the market. Every product of our DOTCH® range has been tested up to a high threshold. Each claim is scientifically demonstrated and we don't allow any space for the slightest doubt.
STAXS®
Sustainability report 2022
Another year on our journey toward "STAXS®️ Pink Planet". A year in which we have joined the Haniel group. It is great to see how the visions are aligned. We have been working on STAXS®️ Pink Planet" where Haniel is on the path towards "Mount Enkelfähig". No matter the words we use to describe our efforts, the goal is the same, securing a future worth living.

What are the steps we have taken over the last 12 months? Read this diary of our journey and we hope it does inspire you!
FEATURED PRODUCTS
We highlight our products on a regular basis. Be sure to check in once in a while to see our latest products or services. Want to see the full catalog on our webshop? Request an account.
DOTCH® Second Life
Through STAXS® Pink Planet, we focus our efforts on the areas where sustainable solutions have the most impact. This includes the responsibility of making sure our products find a new purpose after they've served yours.
Click here for more information about DOTCH® Second Life
"Gravity is not responsible for people falling in love."

STAXS® Blog
INTO THE SPOTLIGHT
Stay up to date with all the news about STAXS® or what goes around in the world of cleanrooms and contamination control.
Through STAXS® Pink Planet, we put the planet and people first and have committed ourselves to the United Nations Sustainable Development goals. We work closely with our suppliers to minimize our carbon footprint and make sure our organization is diverse and inclusive and provide equal and ample opportunities for our employees to grow and develop themselves within our company.
Read More